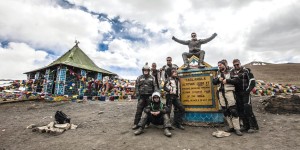 This exciting tour is something of a Himalayan odyssey, starts from the valley of Gods and Goddesses (Kullu Manali) Himachal Pradesh, the land of high lush green pastures, home for Himalayan Shepherd riding over Rohtang la is the most amazing experience which continuously goes on crossing the World's Two Highest Motor able passes and linking two of the ultimate mountain range's most breath-taking regions: Ladakh and Zanskar. High altitude deserts, the highest of passes, the amazing Kashmir valley, stunning Tso-khar and Tso mo riri Lakes and the incomparable beauty of Indus valley with its 24,000ft snow-caps Mountains and hanging glaciers… nothing comes close in terms of natural splendour. These trips will start from Manali and end in Sri Nagar (Jammu & Kashmir). International arrivals and departures will be in Delhi, Travelling up in these beautiful mountains by bike brings you close to the environment and its inhabitants; close to the nature of this huge place. For most riders a trip like this will be the experience of a lifetime.
Duration: 15 Day, 14 Nights
Riding Days: 13 Days
Accomodation: Hotel – Camp – House Boat
Motorcycle: ROAYAL ENFIELD "Bullett" 500ccm
Level of Difficulty: Challenging
Max. Altitude: 5.602m
Max. Sleepung Altitude: 3.500m
Average daily Distance: 164kms
Total Distance: 1000km
Fitness Level: Moderate
Bezwinger des zweithöchsten befahrbaren Passes der Welt: Tanglangla
HIGHLIGHTS
Riding the historic Royal Enfield "Bullet" Motorbike

Riding on the world's highest motor able road

Remote ancient Buddhist monasteries and Hindu temples

High Himalaya passes and stunning valleys

Floating markets of Srinagar & staying in a houseboat

Breath-taking views of mighty Himalayas.
Detailed itinerary
Day 01 – Arrive in New Delhi, India (international Arrivals)
Most of the flights arrive in the midnight, you'll have to wait 4/5 hours at the International airport before you take your early morning connecting flight to Chandigarh, those who wish to relax comfortably? We can reserve a lounge on additional price; kindly make sure you are reaching at New Delhi IGIA airport with sufficient spare time between your international flight arrivals to catch your next connecting flight to Chandigarh. Your connecting flight will be booked by Motorcycle Expeditions according to your arrival schedule in New Delhi, overnight at the airport.
Day 02 – Delhi- fly Chandigarh (01) hour-drive to Manali, 250kms – 6/ 7 hour journey:
Early morning flight to Chandigarh, on arrival we'll have breakfast or tea break in the city and we'll drive to Manali in our private Toyota taxi, road to Manali is hilly and zigzag. We will have Lunch on the way, evening reach Manali, we will meet our team and bikes, overnight and dinner in the hotel.
Day 03 – Around Manali – checking and riding your bike:
Arrive Manali, Transfer to Hotel, breakfast and a short briefing on the Motorcycle Tour. After a quick rundown of road safety precautions and check of personal equipment, we will start out on the narrow adjacent road of villages into the mountains. This is your chance to get acquainted with your bike and get to know the roads. In the evening we get back to hotel, dinner and overnight stay at hotel.
Day 04 – Manali to Jispa, 135kms 6-7 hours through Roh-tang pass 3980 meters:
First 35 km is nice road windings till Marhi and then we have to cross the famous traffic jam & challenging muddy road about 10 km on the way to Roh- tang pass (13,044ft). Here you catch fantastic views of the surrounding Himalaya! Next we descend into the Chandra Valley, stop(check point) take a "chai break" before we continue along the bank of the mighty Chandra & then after Tandi we enter in Ghar Valley along Bhaga river through the town of Keylong, have another chai break and then finally head to Jispa (Tod Valley)where we spend in the Hotel.

Day 05 – Jispa to Sarchu 90kms, 5 – 6 hours; including the BaraLacha pass 4890 meters:
Stop at the police check post & then we follow winding road until Baralacha. We cross one of the toughest pass of the journey: the Baralacha pass, lies at 4,890 meters and catch stunning views…Then we descend to "Bharatpur" for a well-deserved chai break and hot lunch. After lunch we ride some fantastic bits of road along the valley floor to our overnight campsite in Sarchu. This is a wonderful semi-permanent camp, dinner and night in the deluxe camp.
Day 06 – Sarchu to Tsokar: 150 kms, 6/7 hours, 4,200meters The most awesome part of the trip on the Manali-Leh highway begins right after Sarchu, in the Jammu and Kashmir state. The Gata Loops – a succession of 21 hair pin bends – will lift you 1,500 feet higher and thereafter; the Lachlung-la (16,616 feet) and Nakee-la (15,547 feet) passes will lead you to More Plains, a 26 mile (42 km) extension of the Changthang plateau. You cut across a sandy track on your right leading you to Tso Kar Lake. The Tso Kar basin has a long mix of meadows and marshy land. It has fresh water and a brackish lake, several natural springs and streams. Migratory birds also use the lake as their breeding ground. Apart from its sheer beauty, Tso Kar is known for the Indian and Tibetan nomads who live here in the winter months, overnight stay in Camp.
Day 07 – Tsokar to Tsomoriri (90kms / 6 – 7hrs.): 4000meters. Tsokar to Tsomoriri is 80 km ride that will test your idea of space and time, and leave you completely out of words to describe what you will see. Not one or two but three pristine lakes, two high altitude passes, Namshang-la (16,500 feet) and Pologonka-la (16,300 feet) combined with sand and stone tracks force you to stop every once in a while to either pictures or just to enjoy and admire the beauty, dinner and overnight in Camp.
Day 08 – Tsomoriri – Leh (210kms / 8 – 9 hrs.): 3,500meters. On the banks of Tsomoriri Lake, is home to the largest clan of nomadic Buddhist tribes in the Ladakh region. The Changpa nomads live in Yak-wool tents and make a living out of rearing sheep and goat. Their yak-milk tea is worth tasting and you should definitely visit one of the Changpa campsites to get a first-hand experience on how these amazing human beings have been living in perfect harmony with nature for centuries. After spending time at the nomadic campsite, you can ride alongside the majestic Indus River to Leh, dinner and overnight stay at hotel in Leh.
Day 09 – Leh – Khardungla – Leh (80 km / 5 – 6 hrs.): 5602meters After breakfast it's time to kick-off your motorcycle bike, today's ride will take you to Khardung La (5359 M). "La" means "Pass" in Tibetan, the highest motor bale pass in the world afternoon return back to Leh and rest of the day will be at leisure, dinner & overnight stay at hotel in Leh.
Day 10 – In Leh: Today will be at leisure to rest or visit around on your own, dinner and overnight stay at hotel in Leh.
Day 11 – Leh – Photoksar – Lamayuru (3510 M/150 KMS / 7 – 8 HRS): After breakfast we ride to the famous Lamayuru Monastery but before that we ride to Photoksar the earlier trekking route to Zanskar. This is new road which is very less explored by riders or drivers, continuing the same road back we further ride to Impressive Lamayuru Monastery, dinner and overnight stay at Guest House.
Day 12 Lamayuru to Kargil: 7/8 hours ride, 125 kms, 2600meters, over Fotu la 4,200meters
We leave scenic sight of Lamayuru by early morning after breakfast, we ride zigzagging hairpins up to Photu la pass, and we will stop by Mulbek to visit the small but impressive Buddhist monastery. Tonight we will stay in an Islamic small town call Kargil, evening a free stroll in the town. Overnight and dinner will be in the Hotel.
Day 13 – Kargil to Srinagar, 202 Kms/ 8 to9hours: 1800 meters- over Zozila-la Pass-4200meters.
We advise for an early start today to Srinagar where we pass through Drass, the second coldest inhabited place on earth and you can have spectacular view of Kargil War famous Peaks Tiger Hill and Tololing Peak. We cross Zozi La (3033 M) to enter in Srinagar Valley, which is a different experience. Arrive Srinagar in the evening through a beautiful place Sonmarg on the way check inn at hotel or house boat for overnight stay.
Day 14 – In Srinagar: Today will be at leisure for individual activities, dinner and overnight stay at hotel / house boat.
Day 15 – Srinagar – Delhi – Onward destination: As per the flight timing transfer to Srinagar airport to board flight to Delhi, on arrival in Delhi transfer to hotel rest of the day will be at leisure, after dinner transfer to IGIA to board flight for onward destination.